Real Name: James Storey
Handle: Giz
Group: Defekt,Desire
Country: UK
Former Apogee/3D Realms developer James Storey has died.
Some sad news to report from the 3D Realms family.  A former artist of ours James Storey has died.James first came to us in 1994, and was our first non US born developer, having originally been born in England.  He stayed with us for three years, going back to England in 1997.  He was here for a short time, but left an impact having worked on these legendary games with us: Rise of the Triad, Terminal Velocity, Stargunner, and Duke Nukem 3D.James had been out of games for quite awhile, but in recent years was heavy into RC racing and photography, as evidenced by his running the RC site Oople.He was born on Oct 25, 1973, and was unfortunately only 41 when he died on May 30th.  This makes two 3D Realms developers who have died at exceptionally young ages (the other being William Scarboro, who also worked with James).While James did several pieces of art on multiple projects, one piece that anyone who played Duke3D should remember was the exploding barrels.  James recently had this to say about his own art on his Facebook page.."Oh man – the exploding barrels I drew for Duke Nukem 3D – Hand pixled (one pixel at a time!) in Dpaint……… 21 years ago! MAD."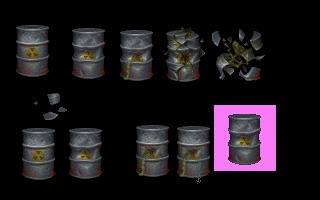 Scott Miller of Apogee/3D Realms had this to say about James:
"Truly a shock and a tragedy. RIP James. I'm so saddened. James was easily one of the best artists to work at 3D Realms over the years, just such a natural talent. And a truly nice person, too. He didn't stay with us more than three years because he was so homesick for England. And his beloved fish and chips. 🙂  We'll always miss you, James."
We don't like passing on news like this, but feel that long time fans of 3D Realms would want to know.  RIP old friend, sorry to see you go.  Way too soon, mate.
Below is a picture of James with team Duke3D, as well as a picture taken in November 2012 with his wife Vicky.   Thanks to his sister Catherine for the recent pictures of James.
Source: https://3drealms.com/news/rip-james-storey/
I wanted to write something but wasn't sure where, so I'll put it here…

I first met James (or 'Giz' as we all called him back then) in a Scout Hall in Southport in the Summer of 1991. We were both Amiga fanatics and Southport was home to the Destiny '91 Demo Party on that particular weekend. We were both doing graphics for different Amiga groups at the time, but a number of us would be meeting for the first time, to form our new group – Defekt!

I set up my Amiga A500 (and massive TV!) in a spare spot, next to a guy who didn't look too scary to 14 year old me. That guy happened to be Jimmy. I discreetly watched him pixelling a logo over the course of the next few hours (I still remember the logo – a green 'Asylum' logo, and needless to say it blew my socks off!). We eventually got talking and showing each other our work. Jimmy spent the rest of the day teaching me all sorts of techniques for shading and perspective, downplaying his own skill at every turn as he was always so modest. We hung out together all weekend, chatting and drawing together. There was a guy at the party who was cooking and selling pasties, and he ended up leaving a load of unsold ones behind. Come Saturday evening, I'd managed to persuade some older guys to buy me a few cans of Fosters, which ended up getting shared. Things got a little messy and a giant pasty fight ensued. I've still got a snapshot image in my mind of Jimmy staring at me open-mouthed as a pasty whizzed through the air towards his keyboard. He got me back by surrounding (and blasting) me with giant speakers when I curled up on the floor to sleep that night

We stayed in touch by phone and post for a good few years after that. It was a strange time back then, before the internet. We would send each other floppy disks (with our pictures and any interesting demos we'd received) and a covering letter. Over time the letters grew longer and more elaborate, and a package in the post from Jimmy always made my week. He'd often spend considerable time fixing up my artwork and returning it along with a letter explaining what he'd done and how I could use these techniques myself. When it came to drawing (especially logos), Jimmy was always my benchmark, someone who I hoped to one day be able to emulate, but knew I never really would. He was always such a creative talent, bursting with ideas and enthusiasm and so open and willing to share his wisdom and expertise. Jimmy continued to get better and better at graphics and went off to America to work for 3D Realms (I still have a copy of Duke Nukem atomic edition here that he signed for me when he came back to England). We stayed in touch over the years, usually with periods of intense catching-up after a few years of going off in different directions, doing different things. Jimmy came to stay with me for a week in the late 90s and this week I've been fondly remembering the fun we have had together. He found another great passion here, in the world of RC racing, and it was obvious from speaking to him about it that you guys really meant a lot to him.

It still doesn't feel real that he's gone His star burned brightly and he was a truly wonderful person that made a powerful and lasting impression on me from the first time we met. My heartfelt condolences go out to his wife Vicky and his family and friends.

I love you man and I feel honoured to have known you. Wherever you end up, I hope it's 'Ace!'

Joe